YADANABON
Mandalay is the last royal capital of Myanmar kings.
Was founded by king Mindon in 1875.
Second largest city and center of arts and crafts.
about 10 hours by express bus, 14 hours by train,
there is a inter national airport. population 2millions
Mandalay zone fee $10
_________________________________________________
Mahamuni pagoda
13feet(3.8m) height is covered with so much gold leaf that its body has lost all proportion.
Bodawphaya's troop took as booty from Rakhine of 1784.
Kuthodaw pagoda
known as the Mahalawkamarazein is called the largest book in the world king mindon who founded Mandalay as a new capital in 1859 held the fifth Buddhist Synod in 1872.
Over a period of eight years the texts were recited and corrected as necessery by a presiding body of monks and the result were inscribed on 729 marble slabs.
They are housed in individual pavillions.
Golden palace monastery
It was once the private resident of king Mindon who died there in 1878.
His heir king Thibaw moved it outside the palace and donated it to monastery,thus saving from the destruction of World War Two.
___________________________________________________________
ARROUND MANDALAY
AMARAPURA
11 km south of Mandalay known as Taungmyo(southern city)founded by king Bodawphaya in 1783 as his new capital.
Bagyidaw's successor King Thayawady again moved the royal capital back to Amarapura in February 1842.
Mahagandayon monastery
Alm food donation to monks o to a monastery is a usual pratice in Myanmar.
Arround 10:00 to 10:30am.There are about 1000 student monks and novices.
U Bein bridge
over 150 years old,1.6 km long wodden bridge across Thaung thaman lake was built with discarded palace timbers.
_______________________________________________________
INWA(AVA)
The capital of Myanmar kingdom for nearly 400 years located 20km from mandalay.
Visitos can across the Myitnge(Dotehtawaddy) river by ferry boat and ride around by horse drawn cart.
Inwa or Ava, located in Mandalay Region,is an ancient imperial capital of successive Burmese kingdoms from the 14th to 19th centuries.
Throughout history, it was sacked and rebuilt numerous times.
Inwa was also known as Yadana Pura.
It was first founded as a capital by King Thado Minbya in 1364 A.D
Bodawpaya's grandson, King Bagyidaw moved the Court back to Ava
in November 1821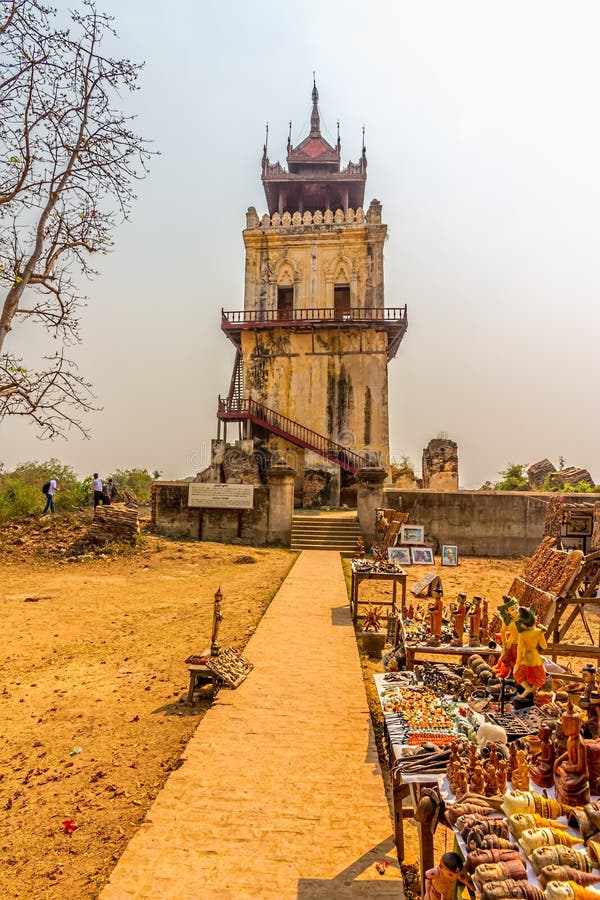 Watch tower
leaning tower of Inwa
27m height
_________________________________
Bakaya monatery
267 teak pillars
Mahaaungmaybonsan monastery
stucco decorated brick structure was donated by powerful queen MeNu in 1818
_________________________________________________________
MINGUN
A small village 12 km from north of Mandalay across the Ayeyawaddy river by ferry boat takes about 1 hour
Pahtodawgyi
was started to build by king Bodawphaya in1790 would have been world's biggest stupa had it been finihed.When king Bodawphaya died in 1819,that left only the bottom complete.
Mingun bell
90 tons weight, 3.7mhigh, 5m wide
was cast by king Bodawphaya in 1790.
Myatheintan pagoda
was built by king Bagyidaw in 1816
_________________________________________________________
SAGAING
Home to hundreds of monasteries and Nunneries,Sagaing hill is centre for Buddhist meditation.
Sagaing was once a capital in 1315.
Sagaing lies 21km south-west of Mandalay on the west bank of the Ayeyarwaddy River.
Sagaing became the capital of an independent Shan kingdom around 1315 after the fall of Bagan.
Its period of importance was short, for in 1364 the founder's grandson, Thado Minbya, moved his capital across the river to Inwa.
From 1760 to 1764,Sagaing was once again the capital.
Today, Sagaing is known as a meditation center.
Myanmars all over the country would visit Sagaing for the purpose of
religious retreat.
Soon oo ponnyashin pagoda
(early offering shrine )was built in 1312 by Minister Ponnya.Great view over the Ayeyawaddy river and surrounding hill top.
Oominthonese pagoda
(literally Thrity caves) is famed for its cresent shaped colonnade of 45 Buddha images.